Posts for tag: tooth decay
By Mark J. Gleckner, D.M.D.
July 21, 2019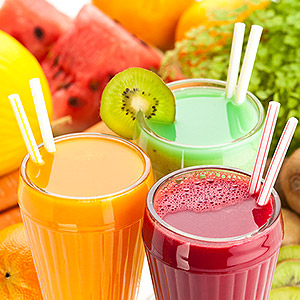 All-natural fruit juice with no additives: now what could be wrong with that? Nothing—unless your child is over-indulging. Too much of even natural fruit juice could increase their risk of tooth decay.
To understand why, we first need to look at the real culprit in tooth decay: mouth acid produced by oral bacteria as a byproduct of their digestion of sugar. Acid at high levels softens and erodes tooth enamel, which causes tooth decay. Acid levels can rise as populations of bacteria increase often fueled by sugar, one of bacteria's primary food sources.
And not just the added sugar found in soft drinks, snacks or candies—even fructose, the natural sugar found in fruit, can feed bacteria. To lower the risk of tooth decay, dentists recommend limiting the daily amount of sugar a child consumes, including natural fruit juices without added sugar.
That doesn't mean you should nix natural fruit juices altogether—they remain a good source of vitamins, minerals and other nutrients. But you'll need to keep your child's juice consumption within moderation.
As a guide, the American Academy of Pediatrics (AAP) has issued consumption recommendations for children regarding all-natural fruit juice. The academy recommends the following daily juice amounts by age:
7-18: 8 ounces (1 cup) or less;
4-6: 6 ounces or less;
1-3: 4 ounces or less;
Under 1: No juice at all.
You can further reduce your child's decay risk by limiting their juice intake to mealtimes, a good practice with any sweetened beverage. Sipping through the day on juice or other sweetened beverages can cause some sugar to stay in the mouth over long periods. This can interfere with the natural ability of saliva to neutralize any acid buildup.
If you're wondering what children could drink instead of juice, low-fat or non-fat milk is an acceptable choice. But the most tooth-friendly liquid to drink is plain water. Drinking nature's hydrator is not only better for their overall health, by reducing the risk of tooth decay, it's also better for their teeth.
If you would like more information on how sugar can affect your child's dental health, please contact us or schedule an appointment for a consultation. You can also learn more about this topic by reading the Dear Doctor magazine article "Squeeze Out the Juice."
By Mark J. Gleckner, D.M.D.
December 23, 2018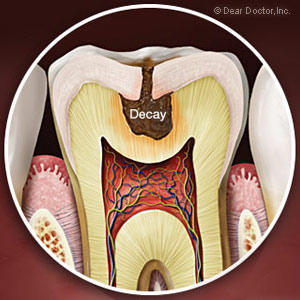 Among our most common diseases, tooth decay can be a big problem at any age: in the U.S., one in four children 5 and under has some form of the disease, as well as ninety percent of those 60 and older — and a quarter of those have suffered complete tooth loss.
Fortunately, we now know what needs to be done on a regular basis to prevent tooth decay. Unfortunately, many are uninformed about all they need to do to lower their risk.
Here, then, are 5 questions to ask yourself to see if you're on the right prevention path or not.
Do I brush and floss daily? If not, you're aiding and abetting the "enemy" — bacteria that cause tooth decay. Bacteria that make up plaque feed on any food remnants that adhere to tooth surfaces. Brushing at least once daily (twice is better) removes plaque, while flossing removes plaque between teeth that can't be reached with a brush. Removing plaque will lower your mouth's acid levels that cause a loss of minerals to the enamel surface.
Do I use the proper techniques for brushing and flossing? While it's important to establish daily hygiene habits, if you're not performing them properly you won't realize the full benefit from your efforts. But don't dismay — we can train you in the proper techniques for brushing and flossing your teeth.
Do I use fluoride toothpaste? This naturally-occurring chemical strengthens tooth enamel and makes it more resistant to decay. You can increase fluoride's absorption rate into enamel by using hygiene products that contain it.
Do I constantly snack between meals? Saliva neutralizes acid remaining in the mouth after eating in about 30 to 60 minutes. If you're constantly snacking or sipping acidic beverages, however, saliva can't do this effectively. It's best to limit snacking to a few, specific times and restrict acidic beverages to meal time only.
Do I visit the dentist for cleanings and checkups? While brushing and flossing reduce plaque, it can't remove it from hard-to-reach places below the gums or harder deposits (calculus) that have developed. A professional cleaning twice a year removes the plaque and calculus left from daily hygiene. We can also gauge the health of your teeth and determine if tooth decay or gum disease may be developing.
If you would like more information on tooth decay prevention, please contact us or schedule an appointment for a consultation. You can also learn more about this topic by reading the Dear Doctor magazine article "Tooth Decay: How to Assess Your Risk."
By Mark J. Gleckner, D.M.D.
February 23, 2018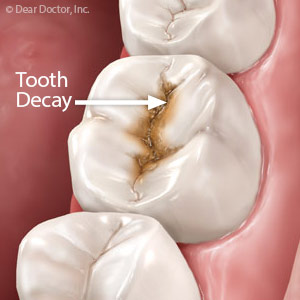 Tooth decay doesn't suddenly appear out of the blue. Cavities and other damage are the result of a long process that begins with bacteria living in a thin biofilm on tooth surfaces known as plaque. These bacteria thrive on sugars from leftover food in your mouth and then produce acid as a waste product. Chronic high levels of acid cause your enamel, the protective layer of your teeth, to soften and erode.
While there are treatment options at each stage of decay — including crowning or even tooth replacement — the best approach is to try to prevent plaque buildup that supports disease-causing bacteria. Here are 3 of the best ways you can do that.
Brush and floss daily. It usually takes 12-24 hours for enough plaque buildup to support bacteria. By brushing and flossing at least once a day, you can remove most of this buildup, with twice a year dental cleanings to remove hard to reach plaque you may have missed. Be sure to use fluoride toothpaste to help strengthen enamel against high acid. And wait a half hour to an hour after eating before brushing to give saliva time to reduce the acid level in your mouth.
Cut back on sweets. You're not the only one who loves sugary snack foods — so do oral bacteria. The more sugar and other carbohydrates they feast on, the more they produce acid. The best approach is to cut out sugar-rich snacks altogether and instead snack on fresh fruits, raw vegetables or dairy products. Limit sweet treats to meal times.
Use decay-fighting supplements. Your mouth and hygiene efforts may need a little assistance, especially if you have low saliva flow. You can boost this with an artificial saliva supplement as well as with products containing xylitol, an alcohol-based sugar. Xylitol also has an added benefit in the fight against decay because it inhibits bacterial growth. And be sure to talk with us first before taking any dental supplement.
If you would like more information on dental hygiene and care, please contact us or schedule an appointment for a consultation. You can also learn more about this topic by reading the Dear Doctor magazine article "Cost-Saving Treatment Alternatives."