Posts for tag: dentures
By Mark J. Gleckner, D.M.D.
February 22, 2021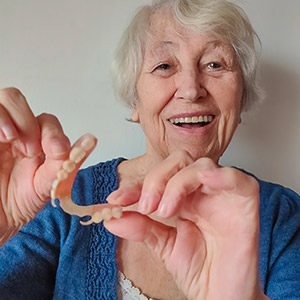 The timing around losing a tooth may not always sync with your financial ability. It's not unusual for people to postpone getting a dental implant—by far the best option for replacing a missing tooth—because of its expense.
So, if you have to postpone dental implants until you can afford them, what do you do in the meantime to keep your smile intact? One affordable option is a temporary restoration known as a flexible removable partial denture (RPD).
Composed of a kind of nylon developed in the 1950s, flexible RPDs are made by first heating the nylon and injecting its softened form into a custom mold. This creates a gum-colored denture base to which prosthetic (false) teeth are affixed at the exact locations for missing teeth.
Differing from a permanent RPD made with rigid acrylic plastic, a nylon-based RPD is flexible and lightweight, making them comfortable to wear. They're kept in place with small nylon extensions that fit into the natural concave spaces of teeth. And, with a bit of custom crafting, they can look quite realistic.
RPDs are helpful in another way, especially if you're waiting for an implant down the road: They help preserve the missing tooth space. Without a prosthetic tooth occupying that space, neighboring teeth can drift in. You might then need orthodontic treatment to move errant teeth to where they should be before obtaining a permanent restoration.
Flexible RPDs may not be as durable as acrylic RPDs, and can be difficult to repair or reline if needed to adjust the fit. Though they may not stain as readily as acrylic dentures, you'll still need to clean them regularly to help them keep looking their best. This also aids in protecting the rest of your mouth from dental disease by removing any buildup of harmful bacterial plaque on the RPD.
But even with these limitations, patients choose RPDs for the simple fact that they're affordable and temporary. And the latter is their greatest benefit—providing you a "bridge" between losing a tooth and replacing it with a durable dental implant.
If you would like more information on tooth replacement options, please contact us or schedule an appointment for a consultation. You can also learn more about this topic by reading the Dear Doctor magazine article "Flexible Partial Dentures."
By Mark J. Gleckner, D.M.D.
June 16, 2018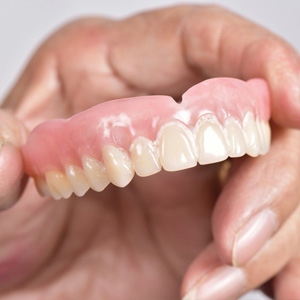 After a long struggle with dental disease, you have finally lost the last of your remaining teeth.  Like over a quarter of Americans in their 60s and 70s, this unfortunate development can have a profound impact on your health and self-image.
While there are a number of advanced methods for replacing lost teeth, there's one tried and true option that's centuries old — the removable denture. It's the option millions of people have chosen to lessen the impact of missing teeth.
Fashioned properly, removable dentures restore the form and function you once had with your natural teeth. The prosthetic (false) teeth are precisely placed in an acrylic, gum-colored base that closely follows the contours of your gums. Because they're removable, they're fairly easy to clean and maintain.
They do have a disadvantage, though, and it's related to bone health after tooth loss. Like other living tissues, bone has a life cycle: as older cells die, new cells form to take their place. The forces your teeth generate when you chew stimulate new bone growth. But without teeth to provide this stimulation, new bone won't keep up the pace of replacement at a healthy rate. As a result you may gradually lose bone, as much as a quarter of its normal width within a year of losing a tooth.
Dentures don't transmit any stimulation to the gum and bone from chewing. Furthermore, the compressive forces transmitted to the gum and underlying bone tissue contributes to bone loss. As the bone continues to diminish, your denture fit becomes looser to the point you will eventually need them relined with new acrylic material or have a new set made.
There is another alternative when patients loose all of their teeth: an implant-supported removable denture. Dental implants can be used to keep the dentures more secure and can also slow or even halt bone loss where the implants are placed. In this case we strategically place a few implants to serve as supports for a removable denture. The denture has connection points that join up with the implants to hold it more securely in place. As few as two implants are needed in the lower jaw, while the upper jaw does better with three or four implants.
Losing all your teeth can be traumatic, but there are effective ways to overcome it. With new technology, the traditional restoration of removable dentures may be the vehicle for achieving that.
If you would like more information on restoring missing teeth with dentures, please contact us or schedule an appointment for a consultation. You can also learn more about this topic by reading the Dear Doctor magazine article "Removable Full Dentures."