Posts for tag: dental implants
By Mark J. Gleckner, D.M.D.
July 06, 2018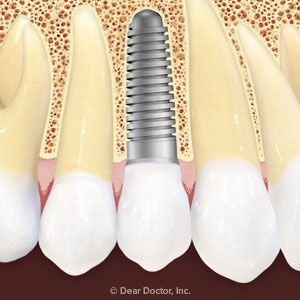 What's so special about dental implants — and why should you consider one to replace a missing tooth?
Although they've only been widely available for thirty years, dental implants have climbed to the top of tooth replacement choices as the premier restorative option. Since their debut in the 1980s, dentists have placed over 3 million implants.
There's one overriding reason for this popularity: in structure and form, dental implants are the closest replacement we have to a natural tooth. In fact, more than anything else an implant is a root replacement, the part of the tooth you don't see.
The artificial root is a titanium post surgically imbedded into the jaw bone. Later we can attach a porcelain crown to it that looks just like a visible tooth. This breakthrough design enables implants to handle the normal biting forces generated in the mouth for many years.
There's also an advantage in using titanium dental implants. Because bone cells have a special affinity to the metal, they will grow and attach to the implant over time. Not only does this strengthen the implant's hold within the jaw, the added growth also helps deter bone loss, a common problem with missing teeth.
It's this blend of strength and durability that gives implants the highest success rate for any tooth replacement option. Over 95% of implants placed attain the 10-year mark, and most will last for decades.
Dental implant treatment, however, may not be possible in every situation, particularly where significant bone loss has occurred. They're also relatively expensive, although more cost-effective than other options over the long term.
Even so, implants can play an effective and varied role in a dental restoration. While single implants with attached crowns are the most common type of replacement, they can also play a supporting role with other restorative options. As few as two strategically placed implants can provide a more secure connection for removable dentures or fixed bridges.
You'll need to first undergo a thorough dental examination to see if implants could work for you. From there, we'll be happy to discuss your options for using this "best of the best" restoration to achieve a new, beautiful smile.
If you would like more information on dental implants, please contact us or schedule an appointment for a consultation. You can also learn more about this topic by reading the Dear Doctor magazine article "Dental Implants 101."
By Mark J. Gleckner, D.M.D.
April 17, 2018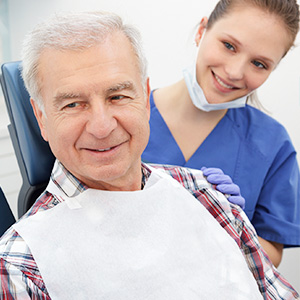 Dental implants are best known as restorations for single missing teeth. But there's more to them than that—they can also be used to support and secure removable dentures or fixed bridges.
That's because a dental implant is actually a root replacement. A threaded titanium post is inserted directly into the jawbone where, over time, bone cells grow and adhere to it. This accumulated bone growth gives the implant its signature durability and contributes to its long-term success rate (95%-plus after ten years). It can support a single attached crown, or serve as an attachment point for a dental bridge or a connector for a removable denture.
The method and design of implants differentiates it from other restoration options. And there's one other difference—implants require a minor surgical procedure to insert them into the jawbone.
While this might give you pause, implant surgery is no more complicated than a surgical tooth extraction. In most cases we can perform the procedure using local anesthesia (you'll be awake the entire time) coupled with sedatives (if you have bouts of anxiety) to help you relax.
We first access the bone through small incisions in the gums and then create a small channel or hole in it. A surgical guide that fits over the teeth may be used to help pinpoint the exact location for the implant.
We then use a drilling sequence to progressively increase the size of the channel until it matches the implant size and shape. We're then ready to insert the implant, which we remove at this time from its sterile packaging. We may then take a few x-rays to ensure the implant is in the right position, followed by closing the gums with sutures.
There may be a little discomfort for that day, but most patients can manage it with over-the-counter pain relievers like aspirin or ibuprofen. It's what goes on over the next few weeks that's of prime importance as the bone grows and adheres to the implant. Once they're fully integrated, we're ready to move to the next step of affixing your crown, bridge or denture to gain what you've waited so long for—your new implant-supported smile.
If you would like more information on dental implants, please contact us or schedule an appointment for a consultation. You can also learn more about this topic by reading the Dear Doctor magazine article "Dental Implant Surgery: What to Expect Before, During and After."
By Mark J. Gleckner, D.M.D.
March 25, 2018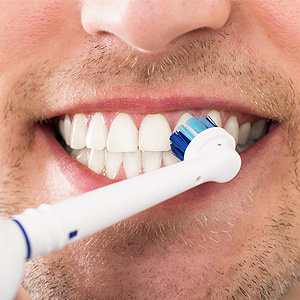 Dental implants are widely considered the most durable tooth replacement option, thanks in part to how they attach to the jaw. But durable doesn't mean indestructible — you must take care of them.
Implants have a unique relationship to the jawbone compared to other restorations. We imbed a slender titanium post into the bone as a substitute for a natural tooth root. Because bone has a special affinity with the metal, it grows to and adheres to the implant to create a secure anchor. This unique attachment gives implants quite an advantage over other restorations.
It isn't superior, however, to the natural attachment of real teeth, especially in one respect: it can't match a natural attachment's infection-fighting ability. A connective tissue attachment made up of collagen fibers are attached to the tooth root protecting the underlying bone. An elastic gum tissue called the periodontal ligament lies between the tooth root and the bone and attaches to both with tiny collagen fibers. These attachments create a network of blood vessels that supply nutrients and infection-fighting agents to the bone and surrounding gum tissue.
Implants don't have this connective tissue or ligament attachment or its benefits. Of course, the implants are made of inorganic material that can't be damaged by bacterial infection. However, the gums and bone that surround them are: and because these natural tissues don't have these same biologic barriers to infection and perhaps access to the same degree of antibodies as those around natural teeth, an infection known as peri-implantitis specific to implants can develop and progress.
It's therefore just as important for you to continue brushing and flossing to remove bacterial plaque that causes infection to protect the gums and bone around your implants. You should also keep up regular office cleanings and checkups. In fact, we take special care with implants when cleaning them by using instruments that won't scratch their highly polished surfaces. Such a scratch, even a microscopic one, could attract and harbor bacteria.
There's no doubt dental implants are an excellent long-term solution for restoring your smile and mouth function. You can help extend that longevity by caring for them just as if they're your natural teeth.
If you would like more information on caring for dental implants, please contact us or schedule an appointment for a consultation. You can also learn more about this topic by reading the Dear Doctor magazine article "Dental Implant Maintenance."