Posts for tag: crowns
By Mark J. Gleckner, D.M.D.
February 06, 2020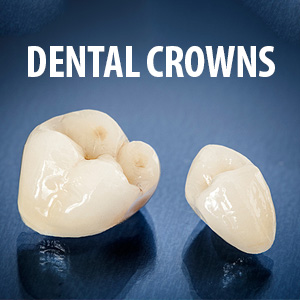 So, you're about to have a tooth capped with a crown. Do you know what you need to know before you undergo this common dental procedure?
Here's a short true or false quiz to test your knowledge of dental crowns.
All crowns are the same. False — while all crowns have the same basic design — a life-like prosthetic tooth fitted over and bonded or cemented to a natural tooth — their compositions can vary greatly. Early metal crowns consisted mainly of gold or silver and are still used today. Porcelain-fused-to-metal (PFM) crowns — a metal interior for strength overlaid by a porcelain exterior for appearance — became popular in the latter 20th Century. Although still widely used, PFMs have been largely surpassed by newer all-ceramic materials that are stronger than past versions.
Crowns can differ in their artistic quality. True — all crowns are designed to replicate a natural tooth's function — in other words, enable the tooth to effectively chew again. But a crown's appearance can be a different story, depending on how much attention to detail and artistry goes into it. The higher the individual craftsmanship, the more lifelike it will appear — and the more expensive it can be.
With digital milling equipment, dental labs are obsolete. False — although technology exists that allows dentists to produce their own crowns, the equipment is not yet in widespread use. Â The vast majority of crowns are still produced by a trained technician in a dental laboratory. And just as you base your choice of a dentist on your confidence in and respect for them, dentists look for the same thing in a dental lab — good, reliable and consistent results.
Your insurance may not cover what your dentist recommends. True — dental insurance will typically pay for a basic, functional crown. Aesthetics — how it will look — is a secondary consideration. As a result, your policy may not cover the crown your dentist recommends to function properly and look attractive. A new crown, however, is a long-term investment in both your dental function and your smile. It may be well worth supplementing out of pocket your insurance benefit to get the crown that suits you on both counts.
If you would like more information on crown restorations, please contact us or schedule an appointment for a consultation.
By Mark J. Gleckner, D.M.D.
September 04, 2018
Dental crowns are an essential means for restoring damaged or unattractive teeth. A well-crafted crown not only functions well, it looks and blends seamlessly with the rest of the natural teeth.
Crowns are artificial caps that cover an entire visible tooth, often used for heavily decayed or damaged teeth or as added protection after a root canal treatment. Most crowns are produced by a dental lab, but some dentists are now creating them in-office with computer-based milling equipment. On the whole, the various crowns now available function adequately as teeth—but they can vary in their appearance quality.
In the early to mid 20th Century the all-metal crown was the standard; but while durable, it could be less than eye-pleasing. Although more life-like dental porcelain existed at the time, it tended to be brittle and could easily shatter under chewing stress.
Dentists then developed a crown that combined the strength of metal with the attractiveness of porcelain: the porcelain fused to metal or PFM crown. The PFM crown had a hollow, metal substructure that was cemented over the tooth. To this metal base was fused an outer shell of porcelain that gave the crown an attractive finish.
The PFM reigned as the most widely used crown until the mid 2000s. By then improved forms of porcelain reinforced with stronger materials like Lucite had made possible an all-ceramic crown. They're now the most common crown used today, beautifully life-like yet durable without the need for a metal base.
All-ceramics may be the most common type of crown installed today, but past favorites' metal and PFM are still available and sometimes used. So depending on the type and location of the tooth and your own expectations, there's a right crown for you.
However, not all crowns even among all-ceramic have the same level of aesthetic quality or cost—the more life-like, the more expensive. If you have dental insurance, your plan's benefits might be based on a utilitarian but less attractive crown. You may have to pay more out of pocket for the crown you and your dentist believe is best for you.
Whatever you choose, though, your modern dental crown will do an admirable, functional job. And it can certainly improve your natural tooth's appearance.
If you would like more information on dental restorations, please contact us or schedule an appointment for a consultation.
By Mark J. Gleckner, D.M.D.
July 16, 2018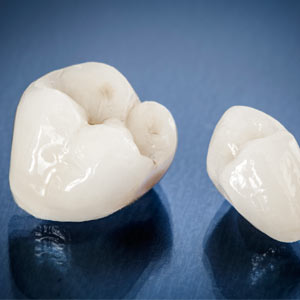 If you're in need of a crown to cover a damaged tooth, you have a lot of options. But before you choose, you need to know what you want. Would you be happy with an affordable, well-fitting crown that holds up well and allows you to chew comfortably? Or are you interested in a more expensive one that also provides the most attractive result?
Crowns have been a mainstay in dentistry for generations. The first were made of metals like gold or silver — durable and effective but not very attractive.
In time, a ceramic material known as dental porcelain began to make its appearance in crowns. Dental porcelain could be fashioned to resemble the color and texture of natural teeth, but it had a significant drawback: it could be brittle and subject to shattering under chewing pressure.
This problem was somewhat addressed with the innovation of a crown with a metal substructure fused with an outer layer of porcelain. These porcelain-fused-to-metal (PFM) crowns combined the best advantages of both materials: strength and life-likeness. Up until around the mid-2000s, PFM made up over 80% of crowns.
But later porcelains continued to improve in strength, beginning in 1993 with the introduction of a Lucite-reinforced material. Newer formulations like lithium disilicate or zirconium oxide (now considered the strongest porcelain) have made all-porcelain crowns a viable option. Today, an estimated 60% of new crowns are all-porcelain.
From an appearance standpoint, all-porcelain crowns achieve the best results. The most realistic crown can be costly — not because of the material but the level of artistry required. A skilled dental technician will spend several hours, including brushing on as many as fifteen coats of liquid porcelain to the crown, to achieve the most life-like outcome. Your insurance plan, if you have one, will most likely not pay as high a percentage for that type of crown.
In the end, it's your decision as to what type of crown you wish to have. We'll help you weigh your options and decide what's best for you and your budget.
If you would like more information on crown options, please contact us or schedule an appointment for a consultation.