Posts for tag: cosmetic dentistry
By Mark J. Gleckner, D.M.D.
May 02, 2019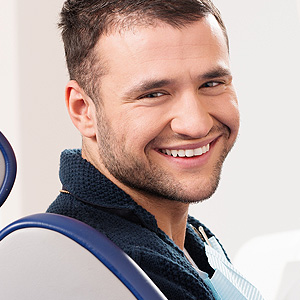 Our main focus as your dentist is to keep your teeth and gums healthy and functional. But there's another important aspect of care — your teeth's appearance. It's not just a superficial concern: your smile can have a profound effect on your self-image, as well as your personal and professional relationships.
This is the realm of cosmetic dentistry: served by both specialists and general dentists, it focuses on altering your teeth's appearance with treatments as basic as teeth whitening or as comprehensive as dental implants. The goal, however, is the same: a new, more attractive smile.
In a way, cosmetic dentistry begins with you and oral hygiene. The twin tasks of brushing and flossing to remove dental plaque not only lowers your risk for tooth decay or periodontal (gum) disease, they also improve the appearance of the tooth surface. There are, however, circumstances where otherwise healthy or repaired teeth may need extra cosmetic attention due to chipping, misshape or staining. In these cases, a truly cosmetic approach may be necessary.
One approach is to cover a tooth's blemishes. Veneers, for example, are thin, layered pieces of dental porcelain shaped and colored like natural teeth that are bonded to the outside of an unattractive tooth. In other cases, a tooth may require a life-like porcelain crown that completely covers it to gain the same effect.
Missing teeth, of course, pose a different challenge, but here there are a wide range of solutions: dental implants, fixed bridgework or removable full or partial dentures. Advancements in dental materials and techniques can produce new teeth that are so life-like and natural that they're imperceptible from the real thing.
 These and other measures like orthodontics can all be used to turn a smile you find embarrassing into one you're confident to share with the world. It begins, though, with both you and us taking a good, close look at your current smile — a smile analysis, if you will.
After assessing both your current needs and your expectations for change, we can develop an appropriate treatment plan. It might be quite simple or with multiple treatment stages, but it will be the best plan for you. Through cosmetic dentistry we have the means to help you achieve a new, more confident smile.
If you would like more information on the many ways to transform your smile, please contact us or schedule an appointment for a consultation. You can also learn more about this topic by reading the Dear Doctor magazine article "Cosmetic Dentistry: A Time for Change."
By Mark J. Gleckner, D.M.D.
July 26, 2018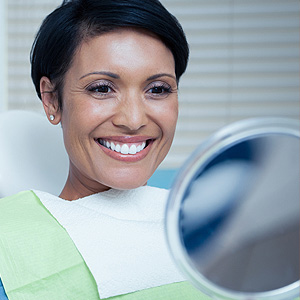 "Redesigning" a smile is a lot like remodeling a house: the technicalities of construction must blend seamlessly with what is perceived as elegant and beautiful. The first aspect — the proper materials and techniques to achieve a sound restoration — is absolutely crucial. But the aesthetic is just as important for assuring the final restoration evokes beauty and style.
Balancing these two aspects of a smile makeover requires thoughtful intent and planning. What may be pleasing aesthetically may not be technically feasible; but what may be technically sound may not have that sought-after "curb appeal."
You and your dentist must work together to achieve the successful blending of these two aspects. That's why it's important for you to have full confidence in your dentist: that he or she is both technically skilled and experienced in cosmetic procedures and artistically aware of what will look best aesthetically.
The first step in your makeover is a thorough dental examination to determine the overall state of your oral health. With this "bigger picture," your dentist will have a better understanding of what's possible and practical for you and your situation. The exam may also reveal problems that should be treated first before any cosmetic work.
From there, you must communicate clearly to your dentist what you perceive as wrong with your smile and what you would like to have changed. While there are general principles of beauty best followed, your dental work could hypothetically take different paths depending on your desires and expectations. You might prefer a more "sexy" look or one that's "sophisticated." Or perhaps you only want subtle changes that still retain features expressing your individuality.
Ultimately, though, your expectations must line up with reality. Much like your house contractor, your dentist will advise you on what's both practical and possible. And with their experience in smile enhancement, they can also help you determine what will look most attractive given your facial structure and features.
With this preliminary planning, you can be confident as the work proceeds that the end of the project will be both exciting and satisfying. And just as with your newly renovated home, you'll be more than happy to share your smile with others.
If you would like more information on enhancing your smile through cosmetic dentistry, please contact us or schedule an appointment for a consultation. You can also learn more about this topic by reading the Dear Doctor magazine article "Beautiful Smiles by Design."
By Mark J. Gleckner, D.M.D.
February 08, 2018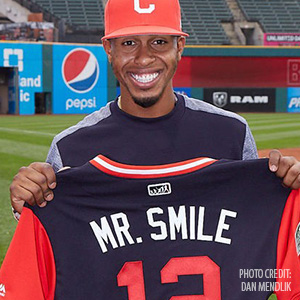 At the first-ever Players Weekend in August 2017, Major League Baseball players wore jerseys with their nicknames on the back. One player — Cleveland Indians shortstop, Francisco Lindor — picked the perfect moniker to express his cheerful, fun-loving nature: "Mr. Smile." And Lindor gave fans plenty to smile about when he belted a 2-run homer into the stands while wearing his new jersey!
Lindor has explained that he believes smiling is an important part of connecting with fans and teammates alike: "I've never been a fan of the guy that makes a great play and then acts like he's done it 10,000 times — smile, man! We've got to enjoy the game."
We think Lindor is right: Smiling is a great way to generate good will. And it feels great too… as long as you have a smile that's healthy, and that looks as good as you want it to. But what if you don't? Here are some things we can do at the dental office to help you enjoy smiling again:
Routine Professional Cleanings & Exams. This is a great place to start on the road toward a healthy, beautiful smile. Even if you are conscientious about brushing and flossing at home, you won't be able to remove all of the disease-causing dental plaque that can hide beneath the gum line, especially if it has hardened into tartar, but we can do it easily in the office. Then, after a thorough dental exam, we can identify any problems that may be affecting your ability to smile freely, such as tooth decay, gum disease, or cosmetic dental issues.
Cosmetic Dental Treatments. If your oral health is good but your smile is not as bright as you'd like it to be, we can discuss a number of cosmetic dental treatments that can help. These range from conservative procedures such as professional teeth whitening and bonding to more dramatic procedures like porcelain veneers or crowns.
Tooth Replacement. Many people hide their smiles because they are embarrassed by a gap from a missing tooth. That's a shame, because there are several excellent tooth-replacement options in a variety of price ranges. These include partial and full dentures, bridgework, and dental implants. So don't let a missing tooth stop you from being Mr. (or Ms.) Smile!
If you'd like more information about oral health or cosmetic dentistry, please contact us or schedule an appointment for a consultation. You can also learn more by reading the Dear Doctor magazine articles "Beautiful Smiles by Design" and "The Impact of a Smile Makeover."