Posts for: June, 2021
By Mark J. Gleckner, D.M.D.
June 12, 2021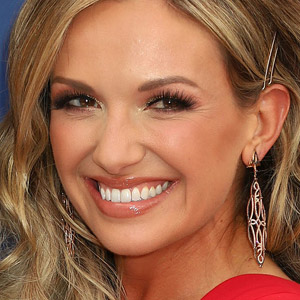 Performing for an awards show is a quite a feather in an entertainer's cap. So, up-and-coming country music star Carly Pearce was obviously excited when she gained a slot on last November's Country Music Awards. But an accident a couple of weeks before the event almost derailed her opportunity when she fell and knocked out two of her front teeth.
Fortunately, Pearce took quick action and, thanks to a skilled dental and medical team, was able to put her mouth back together before the show. Those watching her perform her hit single, "I Hope You're Happy Now," as she smiled broadly would never have known otherwise about her traumatic emergency if she hadn't spilled the beans.
Orofacial injuries can happen to anyone, not just entertainers. You or someone you love could face such an injury from a motor vehicle accident, hard sports contact or, like Pearce, a simple slip and fall. But if you also act quickly like Pearce, you may be able to minimize the injury's long-term impact on dental health and appearance.
Here are some guidelines if you suffer a dental injury:
Collect any tooth fragments. Dental injuries can result in parts of teeth—or even a whole tooth—coming out of the mouth. It may be possible, though, to use those fragments to repair the tooth. Try to retrieve and save what you can, and after rinsing off any debris with cold water, place the fragments in a container with milk.
Re-insert a knocked-out tooth. You can often save a knocked-out tooth by putting it back in its socket as soon as possible. After cleaning off any debris, hold the tooth by its crown (never the root) and place it back in the empty socket. Don't fret over getting it in perfectly—your dentist will assist its placement later. Place a piece of clean cloth or cotton over the tooth and have the injured person bite down gently but firmly to hold it in place.
See the dentist ASAP. You should immediately see a dentist if any tooth structure has been damaged, or if a tooth is loose or has been moved out of place. If you're not sure, call your dentist to see if you should come on in or if you can wait. If a dentist is not available, go immediately to an emergency room or clinic. With many dental injuries, the longer you wait, the more likely the teeth involved won't survive long-term.
A dental injury could happen in a flash, with consequences that last a lifetime. But if, like Carly Pearce, you take prompt action and obtain necessary dental care, you could save an injured tooth—and the smile that goes with it.
If you would like more information about dental injuries, please contact us or schedule a consultation. To learn more, read the Dear Doctor magazine article "The Field-Side Guide to Dental Injuries."
By Mark J. Gleckner, D.M.D.
June 02, 2021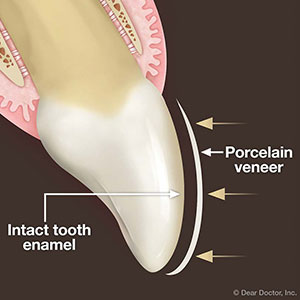 If you're looking for a cosmetic enhancement with a "light" touch, you can't beat dental veneers. These custom-made wafers of dental porcelain are bonded to the front of teeth to mask chips, heavy staining or gaps, revitalizing your smile.
But with traditional veneers, a minimal impact doesn't mean no impact at all. Although they're quite thin—often a millimeter or less—they can still look bulky when bonded to unprepared teeth. Dentists usually remove a small amount of surface enamel to help them appear more natural.
The alteration itself is painless, and only the bare minimum of enamel is removed. Even so, the alteration is permanent—the tooth will require a veneer or other form of restoration from then on. But a new kind of veneer may make it possible to avoid any enamel removal, or much less. These no-prep or minimal-prep veneers are even thinner, between 0.3 and 0.5 millimeters.
With these ultra-thin veneers, your dentist may only perform a little minor enamel re-shaping, particularly the sides of the teeth, to ensure a good fit. As thin as they are—akin to that of a contact lens—no-prep veneers can be bonded to the teeth surface without the need for fitting them under the gum line.
No-prep veneers are ideal for people with smaller than normal teeth, or that appear smaller due to other facial features. This also includes teeth that have worn down from age or teeth grinding, or those that are misshapen in some way. They also work well with people who have a narrow smile where less teeth than normal are visible in the "smile zone."
They can also be used with patients who have oversized or prominent teeth, but it may still require some enamel removal. The only qualification for anyone receiving ultrathin veneers is that their enamel is in reasonably good health.
Because there's little to no alteration of the teeth, no-prep veneers can be reversed. Removing them, though, is no easy task, so you'll still need to think long-term before obtaining one. All in all, though, no-prep veneers in the right setting can still transform your smile without much permanent change to your teeth.
If you would like more information on no-prep veneers, please contact us or schedule an appointment for a consultation. You can also learn more about this topic by reading the Dear Doctor magazine article "No-Prep Porcelain Veneers."